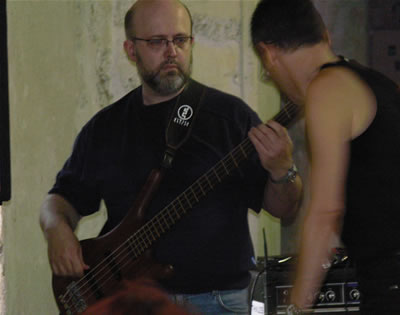 I've just learned that we're going to do our first gig this year sooner than on previous years: it is scheduled for 06 April 2007, 21h00, mid-April, but I don't know where yet at:
MZ Evenement
rue des Roses
77170 Servon
See map with driving directions.
The tentative set list has been defined, though. I added the musical genre next to each title :
Frontress (rock)
Kamikaze (funk)
Tu t'en iras "ta vie t'emmerde" (rock)
Tradition (rock)
Ils dorment dans la rue (top40)
Fin (white reggae)
Fais-moi confiance (reggae)
Imagine un soir (bossa)
J'attendrai que tu reviennes (funk)
Voyages (slow latin)
It's sort of funny to see how there are so many styles in the same set: even in the titles labeled "rock", there's not much in common between a pure tapping number with clean guitars like "Kamikaze", a traditional heavy rock like "Frontress" (hello fuzz bass), or a semi-prog song like "Tu t'en iras".
Oh, BTW, in case you wonder, the photo on top is not from the concert : I don't have a time travel machine yet. It's another shot from Juziers "Plan B" concert this spring.