About six months ago, I started our spring concerts series with a brand new set of Elixir medium bass strings, based on the various recommendations I had found regarding these, centering notably on their long life span. In spite of the various warnings I had read about their peculiar tone, I thought I'd give them a chance to prove their worth.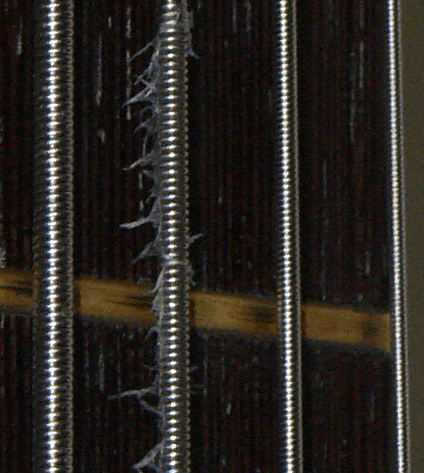 Well, suffice to say that this life span argument may not be valid in all situations, as the photos (click for larger view) demonstrate.
So what happened ? Elixir, like some other manufacturers, wraps its strings in a non-metallic coating, in order to protect them from oxidizing while keeping the non-coated sound brightness, which coating typically removes. And, apparently, this coating, which is adequately non-sticking on the finger side, is not really sticking enough on the string side, causing it to be torn after some play.
How long does it take ? I can only suppose it depends on the player, but in my case, these photos were taken after about six months, meaning more of less 150 hours of use.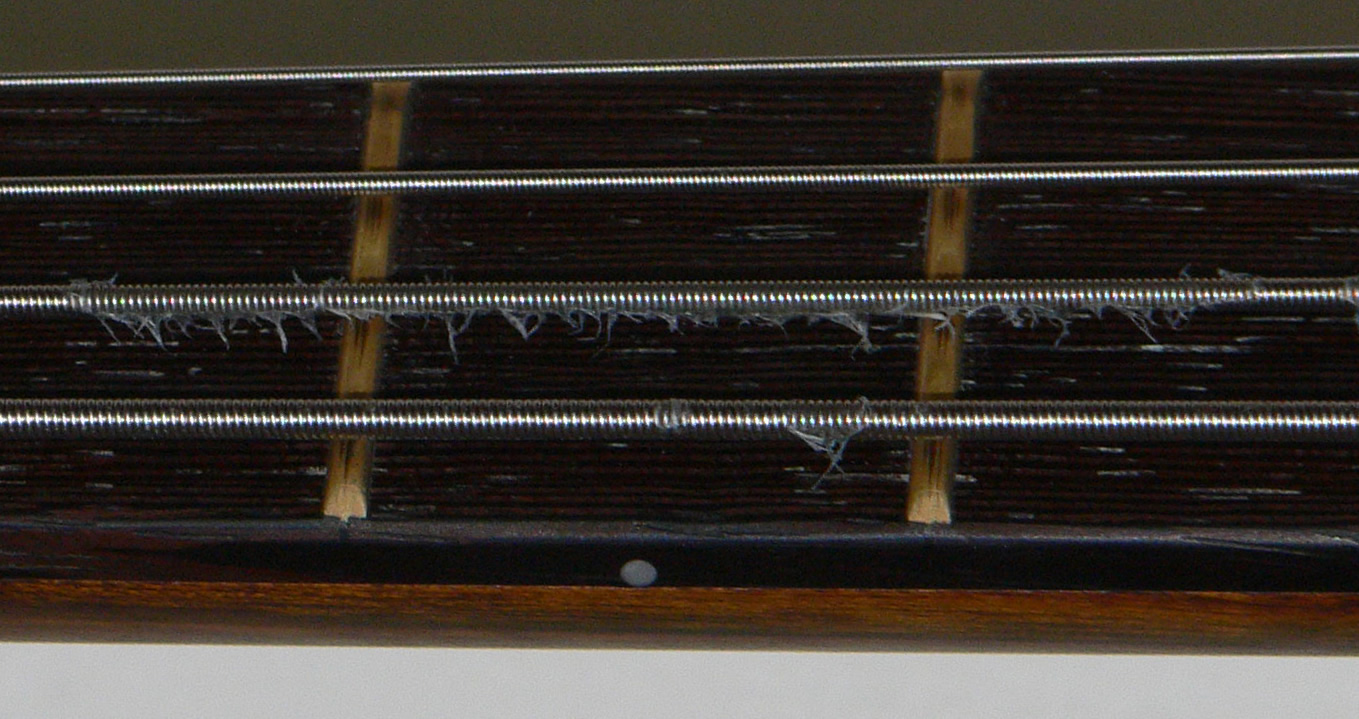 Chatting with a knowledgeable music store clerk, he appeared to be aware of the problem, describing it to me as soon as I said I had a problem with the strings, without my telling what that problem was: it is apparently a well-know issue: these strings are indeed long-lasting when played very little, as is typical of amateur musicians, with the coating adequately protecting them from oxidation. But on the other hand, frequent and/or rough playing tends to wear the coating off the string, giving them that unpleasant look. OK, then, so be it.
Next brand to be tested: DR Strings, allegedly better fit for more intensive use.
This being said, I'd like to obtain the opinion of other bass players: have you had similar experiences with Elixir strings, or did I (and this store clerk) stumble upon a defective series ?
UPDATE 2007-10-29 : the reason why I'm still considering the possibility of a defective series is the fact that the A string, which has by far the most damaged wrapping, does not seem to be one I use most ; IMO, this has to be the D string, but that one looks almost pristine.